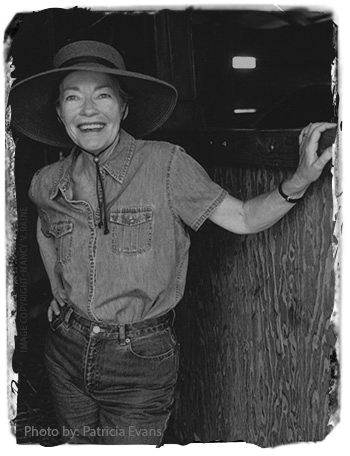 Nancy grew up in Fairfax County, Virginia when it was still a rural community of farms, tracts of forests and gravel roads. The natural world she experienced as a child fostered her keen powers of observation and inspires much of her writing and art. Her sense of being grounded in nature, however, was radically challenged in her teenage years, when her family moved to Frankfurt, Germany. It was in Europe, where she travelled extensively with her parents, that her lifelong appreciation for diverse cultures, her intellectual curiosity, and her love of the arts were first nourished.
She earned a Masters Degree in Philosophy at University of Iowa in 1970. The presence of the school's renown Writers' Workshop brought her into contact with nationally recognized writers and provided unique opportunities for her to attend lectures, readings and seminars. She began writing poetry in 1968 and published her first poem in The Massachusetts Review in 1972 after moving to Washington, D.C. where she worked at the National Endowment for the Arts under the leadership of its first, legendary Chairman, Nancy Hanks. She became Assistant Director of the Media Arts program, where she designed the agency's grant program for radio – NPR's Prairie Home Companion was the Endowment's first radio grant – and focused on administering grants to innovative independent filmmakers and videographers.
During her six years in Washington, her poems appeared in the Southern Poetry Review, The Massachusetts Review and other literary journals, and in the book, Woman an Issue (Little Brown, 1972).
In 1978 she moved to Cambridge, Massachusetts where she was a Poet-in-Residence in the Cambridge Public Schools and an arts management consultant. Among her clients were Harvard University, the New England Foundation for the Arts, the Massachusetts Council on the Arts and Humanities, the Boston Symphony Orchestra, The Photographic Resource Center, and the Eastern Public Radio Network. She was also a Senior Development Officer at Harvard's Graduate School of Design, Vice President of the Radio Foundation, NYC and a founding board member of the public art nonprofit, UrbanArts, Cambridge. Her essays appeared in Design Arts Magazine, Arts on the Line: A Public Art Handbook, and in The Arts and the New England Economy and her poetry in The Women's Review of Books.
She turned her creative interests to filmmaking and released Light Coming Through, a film portrait of the Boston visual artist, Maud Morgan, which she co-directed with the filmmaker, Richard Leacock, in 1980. It premiered at the Museum of Fine Arts, Boston and was exhibited at the Museum of Modern Art in New York where it was selected by the museum for inclusion in the Fourth Ethnographic Film Festival, Centre Georges Pompidou, Paris, France. It was exhibited at the Institute of Contemporary Art, Boston, the Addison Gallery of American Art, Andover, the Dorothy Azner Film Festival, Anthology Film Archives, NYC, and was widely distributed to universities and colleges.
She moved to San Francisco, CA, where she married Stephen M. Stevick, and continued her work in arts management, first as a freelancer and then as a field consultant for the National Endowment for the Arts Advancement Program. Her clients included the David and Lucile Packard Foundation, Los Altos, CA, the John D. and Catherine T. MacArthur Foundation, Chicago, IL, a variety of Bay Area arts organizations and the literary journal Manoa, a Pacific Journal of International Writing, Honolulu, Hawaii.
She was an Affiliate Artist at the Headlands Center for the Arts in Sausalito, CA and it was there that she began to explore through art — painting, collage, and poetry — the painful emotional legacy of her experience as a rape survivor. The essay that emerged from these explorations, Returns of the Day, was published in the New York Times Magazine in 1994. Returns of the Day also appeared in The Guardian, London Marie Claire, and was reprinted in Telling Stores/Taking Risk: Journalism Writing at the Century's Edge by Alice Klement and Carolyn Matalene.
In 1998 Crown Publishers, NY published her groundbreaking memoir, After Silence: Rape and My Journey Back. It received wide praise for its literary merit and won the Books for a Better Life Award (1998) and the Book of the Month Quality Paperback New Visions Award (1999). The New York Times Book Review called After Silence ". . . a book that dignifies the human spirit . . . [that] should be read by everyone" and Publishers Weekly praised After Silence as ". . . an impressive balance between a starkly candid memoir of a personal trauma and an ingenious literary discussion of an all-too-often unspeakable crime." Anna Quindlen called After Silence "a brave, an important and a necessary book."
It has been translated into four languages and published in the United Kingdom. She has made numerous television and radio appearances in the United States, Germany and Holland and was featured on ABC News' Nightline (11/1998).
In 2000, she returned to her Virginia roots with her husband where they established a horse farm. For the last 15 years she and her husband have been active in environmental work. She is currently working on a collection of essays.