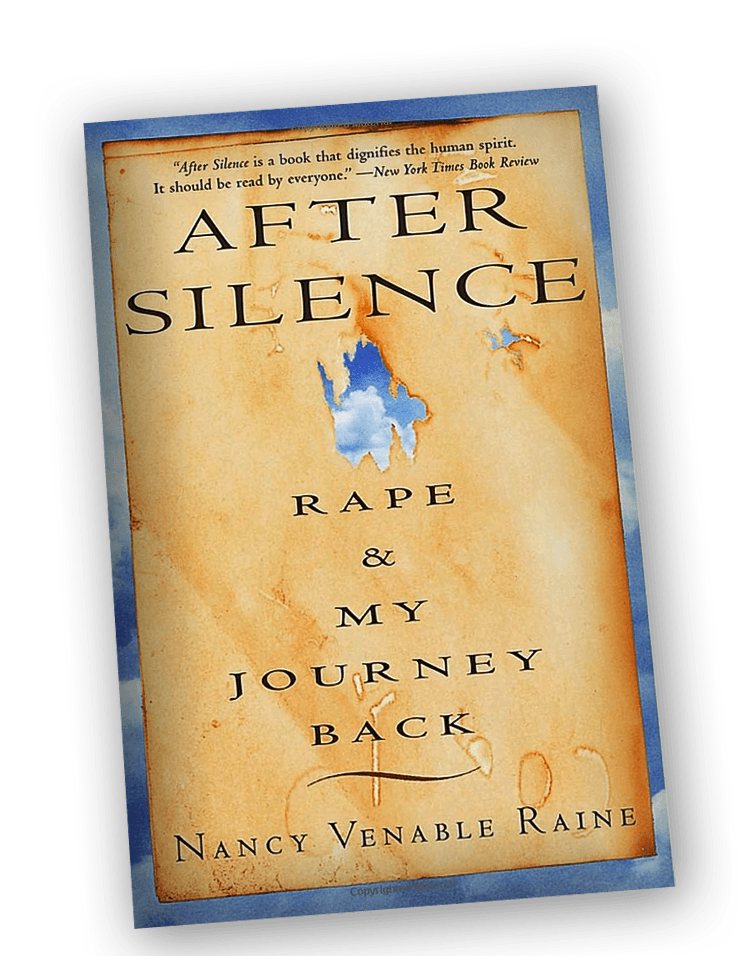 "There are few published first-person accounts of the experience of being sexually pillaged and its aftermath.
After Silence is one of the first and,
I would wager, it is always going
to be one of the best…"

– Richard A. Shweder,
New York Times Book Review
"After Silence is Nancy Venable Raine's eloquent, profoundly moving response to her rapist's command to "shut up," a command that is so often echoed by society and internalized by rape victims. Beginning with her assault by a stranger in her home in 1985, Raine's riveting narrative of the ten-year aftermath of her rape brings to light the truth that survivors of traumatic experiences know–a trauma does not end when you find yourself alive.
For anyone, female or male, who has suffered from or witnessed the shattering effects of rape, After Silence inspires and points the way to healing. This landmark book is a stunning literary achievement that is a testimony to the power of language to transform the worst sort of violation and suffering into meaning and into art."
Read the Article That Lead to the Book
Returns of the Day
(Note: This article I wrote, 'Returns of the Day', was originally published in the New York Times Magazine in October 1994. The article and the subsequent response from many readers lead to the book and the sharing of my experience with a wider audience. You can find an online version below and it was also re-published by The Guardian when the book first came out in January 1999.)
On an autumn afternoon in Boston seven years ago, when the cherry tree in my garden was the color of orange marmalade and the sky was a flawless blue, a man slipped through the back door of my ground-floor apartment while I was taking out the trash. I don't know how long he skulked in my home, or in what shadows. Long enough for me to lock the back door, turn my back, walk over to the sink and begin to wash the pan I'd cooked oatmeal in that morning. I was scrubbing it when he grabbed me from behind. 'I'm going to kill you,' he said. He dragged me into my bedroom and, using duct tape, blindfolded and bound me. He then beat me and raped me. I never saw him. Only his enormous feet.
The anniversary of my rape is the brooding axis of my year, more significant than my birthday. After all, I don't remember my own birth struggle. But I remember every second of those three hours. Like most rapists, he was never caught, tried or imprisoned. Like all survivors, I am growing accustomed to living with an anniversary that can be marked only by silence, a silence that tastes a lot like shame. Every year I feel the anniversary coming even before my conscious mind recognizes it. When the air crisps and the leaves begin to turn, I get this thing about taking out the trash. About oatmeal.
The eyes in the back of my head, the ones that are never shut, begin to burn like the autumn colors, filling me with emotions I still can't encompass. I know how to mark my birthday, my wedding anniversary, even the anniversary of my brother's death. But the day I was raped? How should I observe the passing of another year? After all, I did take the trash out yesterday and just this morning – the morning – I ate oatmeal standing at my kitchen window while contemplating the wild plum trees in my California garden that were turning the color of orange marmalade.
Of course, anniversaries are celebrations. Celebrate is what I do on my birthday, with friends and family who make a fuss that I outwardly protest and secretly relish. Celebrate is what I do on my wedding anniversary, when my husband and I slip out of the humdrum and go off and do something silly that makes us appreciate our routine again. And on the anniversary of my kid brother's death, I call my mother and we retell the story of how he carried his pet alligator to the zoo when it outgrew the bathtub – in a paper bag on a Washington bus.
I am never alone when I celebrate these anniversaries, because someone else remembers them, too. Is it possible to celebrate this anniversary alone, as alone as I was that afternoon? Celebrate in silence my slow coming to terms with the fact that I can never again be that woman who locked her door and felt safe. My husband, my mother, my friends, still suffer their own brand of helplessness when they try to imagine the content of my memory. My father, who spent his life in law enforcement, leaves the room if the subject of rape in general, or my rape in particular, creeps into the conversation. Why remind them? And dare they remind me, when they secretly hope I might be 'over it' at last? Silently, every year on this date, I remember with particular lucidity what it was like to be only mindless instinct, a collection of synapses and fibers, muscle and bone, organized round the single desire: to live another second.
This reduction to such bare necessities of body was an alchemy that spun not gold but something dark and polar, a terrible knowledge that to this day sits in the center of my heart like glacial ice. Why remind people who love me it is still there? On this anniversary, more or less safe in the cradle of the day's routine, I began to think back. To the first anniversary, when I realized that I had to stop talking about what happened to me because the people who loved me could not bear to hear it. And the second, when I pretended to myself I was 'over it'. The third, when I realized I wasn't. The fourth, when I was in treatment for post-traumatic stress syndrome. The fifth, when I was convinced my treatment wasn't helping and secretly wondered if I had the guts to kill myself. The sixth, during a lunch date, when I told a woman I barely knew that our meeting was occurring on the anniversary of my rape. I spoke matter-of-factly, afraid she might gather up her black briefcase and suddenly remember a dentist's appointment. 'My tenth was in June,' she replied.
As the seventh anniversary hour, 3.30, approached, I made a cup of tea. I remembered a story I'd heard 25 years earlier from my friend George. In those days, work crews marked construction sites by putting out smudge pots with open flames. George's four-year-old daughter got too close to one and her pants caught fire like the Straw Man's stuffing. The scars running the length and breadth of Sarah's legs looked like pieces of a jigsaw puzzle. In third grade, she was asked: 'If you could have one wish, what would it be?' Sarah wrote: ' I want everyone to have legs like mine.' Yes, I thought. When George told this story, I knew it contained a profound truth, but not what the truth was, nor that I would need it someday. Today, I understand that the self consumes misfortune like a sacred potion until the glass is empty. And this bitter elixir changes who we are. Sarah could not imagine herself without her scars. But she could imagine those scars not setting her apart. She could imagine not being alone. She was not wishing her misfortune on others, but wishing they could share it with her.
I finished my tea and realized I was too anxious to take my daily walk. The odds of being raped don't go down because you've been raped once. A little past 3.30, the doorbell rang. I crept to the peep hole and looked out. It was only the local florist, a woman. The bouquet she presented was huge – yellow roses, pale orange lilies and blue irises. It was from my goddaughter, a university student who was viciously attacked and sexually molested two years ago by a pack of American college boys in a bar in Mexico. The note read: 'You are not alone. Love K.' No, I am not alone. There are millions of us celebrating our silent anniversaries, I thought. Someday we will all march to the Capitol carrying flowers and we will leave them on the steps. We will celebrate our anniversaries. We will give our names.
The month, the day, the year, the hour. We will stop being silent. We will stop being alone. It doesn't have to be in the autumn. I'm not picky.
Reader Responses
(Note: Here is a sampling of readers' responses to the article Remains of the Day that lead to the book.)
Nancy V. Raine's story touched me as few rape stories have. Of course, having survived rape myself, I cannot bear to read very many rape stories. This is the anniversary season — I can no longer, mercifully, remember the date or even be sure whether it was October or November — of my own.
I am not sure what Raine wrote that has touched me so much, alone of the hundreds of articles one comes across. Perhaps her courage. Perhaps the support of her family and friends. My own rape was in 1970, the dark ages, when victims were blamed. I wasn't so lucky to have that support then and, as a result, could never talk about it in any way that has ever helped me, for my feelings of rage at him are all mixed up with fury at those others — cops, doctors, nurses, family, women and men friends — whose own need to deny and whose lack of understanding hurt more than anything. I hope for Raine's sake that her remembering, that her goddaughter's thoughtful remembering, and similar wondeful gestures, will eventually help her heal.
And I thank her for reminding me that we must speak out and, like her, find the courage to "give our names." – MARTI COPLEMAN, Brooklyn
---
I want to send my most grateful thanks to Nancy V. Raine for helping me celebrate my own anniversary — 15 years ago this September (Hers: "Returns of the Day," Oct. 2).
Some years ago, I began to resurrect the horror and fear of my rape experience — I thought maybe I could make peace with it and that it would quietly fade into the past. I know now that this will never happen; the face of my attacker, so briefly glimpsed, will always remain vivid.
To those friends of mine who are also rape victims and who might read Raine's article, I send my love. And to Nancy, I look forward to that march on Washington. There will be so many of us. – JULIE METZ, Brooklyn
Book Reviews
"There are a lot of reasons people don't like to talk about rape. They feel upset, horrified, embarrassed, polluted, even cursed by the very thought of it. You do not have to go to Sri Lanka, where the locution "being shamed" is a local euphemism, or to India, where it is believed that emotions if expressed are dangerous and don't go away, to learn that women who are sexually assaulted don't want to discuss their experiences and certainly don't want to seek revenge by making the rapist the subject of their next book. Even in Manhattan, among loquacious, psychologically minded Westerners who believe that the emotions if left unexamined are dangerous, one of the best ways to stop dinner-party conversation dead is to start describing what it felt like to be raped. There are few published first-person accounts of the experience of being sexually pillaged and its aftermath. "After Silence" is one of the first and, I would wager, it is always going to be one of the best.
In 1985, Nancy Venable Raine was 39, divorced and living alone in a working-class area of Boston. She was attacked and tied up in her home and for several hours violated by an intruder whose face she never saw. "After Silence" is a profound and revelatory narrative of her suffering. Raine, who is a poet and essayist, tries to come to terms with unbidden feelings of shame, with the desecration of her spiritual essence — the identity of the person she was before the rape seemed "to belong to someone else" — and with the unwelcome yet insistent belief that she was responsible for her own defilement. The book is her attempt to "drain the swamp of victim-blame" and to write her way back to wholeness and out of hell by constructing a blameless and shameless modern narrative about the meaning of rape…" – New York Times Book Review
Read the full book review at: www.nytimes.com
---
"…Skillfully interwoven into this narrative are insightful digressions into, for example, the neurological underpinnings of post-traumatic stress disorder and the psychology behind that powerful emotion, shame. Neither self-pitying nor shrill, Raine has achieved an impressive balance between a starkly candid memoir of personal trauma and an ingenious literary discussion of an all-too-often unspeakable crime." – Publisher's Weekly
Read the full review at: www.PublishersWeekly.com
---
"…An exquisitely written account of a personal journey to hell and back. Raine's story of coming to terms with the rape that occurred when she was 39 years old is at once emotionally searing and insightful. A writer whose work has appeared in the New York Times Magazine and Southern Poetry Review, Raine writes with a rare eloquence even as she describes the most horrible scenes and emotions. As she waits in the hospital for medical help, for instance, after being raped and tortured for three hours, she describes herself as "the scene of a crime." The woman she was before the rape has simply disappeared. "The rapist had stolen something at the center of what I had known as myself," she confides. "The rapist himself might be caught, but he could never produce the woman who had not been raped." This book is Raine's attempt to rediscover that woman. While some memoirs are forthrightly revisionist, Raine courageously leaves no part of her inner soul unbared and no social taboo unquestioned as she seeks to better understand one of America's most unspeakable crimes. Using herself as an example, she explains how rape survivors frequently absorb the self-loathing and hatred that so often propel rapists to commit their crimes. She questions society's discomfort with this so-called "sexual" crime and how our unwillingness to acknowledge and discuss rape…" – Kirkus Reviews
Read this book review and others at: www.Amazon.com
Nancy Raine interviews on Nightline and The View